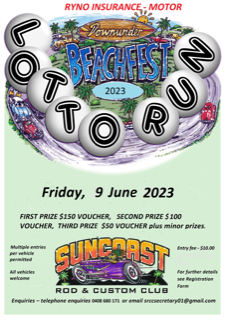 Suncoast Rod & Custom Club proudly presents the Ryno Insurance Downunder Beachfest Lotto Run!
Date – Friday, June 9.
Prizes – First Prize $150 voucher, Second prize $100 voucher, Third prize $50 voucher, plus minor prizes.
Note that this is a seperately ticketed event. YOU DO NOT HAVE TO BE A BEACHFEST ENTRANT TO REGISTER AND PARTICIPATE.
NOTE: REGISTRATIONS THIS YEAR WILL BE AT THE KINGS BEACH AMPITHEATRE (OPPOSITE THE TAVERN)
The run will commence in Caloundra (at Kings Beach) and will go through the hinterland passing a number of Sunshine Coast attractions, which participants may wish to visit during, before or after the run. It will finish at the starting point – Kings Beach, Caloundra.
The run itself is about 100km and will take approximately two hours, but participants should allow additional time if they wish to stop at attractions or to have lunch or coffee during the run.
Participants will be provided with the Entry Record, map and directions prior to the commencement of the run. Participants may commence the run anytime from 9.30am to 11.30am, however, the run must be completed by 2.00pm as prizes will be presented at 2.30pm sharp.
There will be a total of five checkpoints throughout the run, including one at the beginning and one at the end. At each checkpoint participants will draw a numbered ball. The number drawn will be recorded on the participant's Entry Record.
At the conclusion of the run the scores on each Record will be tallied and prizes will be awarded on the basis of participant's score.
The cost for the run is $10.00 per entry. Multiple entries per car allowed.
Download and complete the registration form and return it to srccsecretary01@gmail.com or
Suncoast Rod and Custom Club Inc, PO Box 163, EUDLO, QLD 4554.
Payment should be made by:
Direct Deposit – Heritage Bank BSB: 638 070 Account Number: 0088 633 77. Please show surname and initial as reference.
Cheques – make payable to Suncoast Rod and Custom Club PO Box 163 Eudlo Q 4554
Alternatively, register and pay on the day or on the Wednesday or Thursday before the run.
Enquiries – Ph 0408 680 171 or email srccsecretary01@gmail.com
PRINT – https://beachfestdownunder.com/wp-content/uploads/2023/03/Entrants-Registration-Form-2023.pdf