Downunder Beachfest 2021 entries are open!
• Beachfest is open to all vehicles built before 1983. Your entry sticker is your entry into the event; you will receive your entry sticker when you check in.
• All directions of Traffic management, S.E.S. personnel, security, and A.S.R.F. officials are to be followed, with regard to vehicle movement and parking.
• Upon entering the display area, you agree to remain in the display area for the duration of the festival. 9:00am to 4:00pm. There is to be NO movement of vehicles through the Display Area during the event.
• Should an emergency occur, you must obey all instructions from A.S.R.F. and S.E.S. personnel.
• All vehicles MUST be removed from the display area or parked in a legal manner, by 5:00 pm.
Please complete the entry form below which includes your pre-order for merchandise.
IMPORTANT! This fillable form is designed to operate in Adobe Acrobat Reader. It will not function if completed in a Google Chrome browser window. You can download the form and open with Adobe Reader, or alter your default settings to open PDF files in Adobe Reader. You can download Adobe Acrobat Reader via https://acrobat.adobe.com/au/en/acrobat/pdf-reader.html. For best practice, save your completed form to your device before forwarding.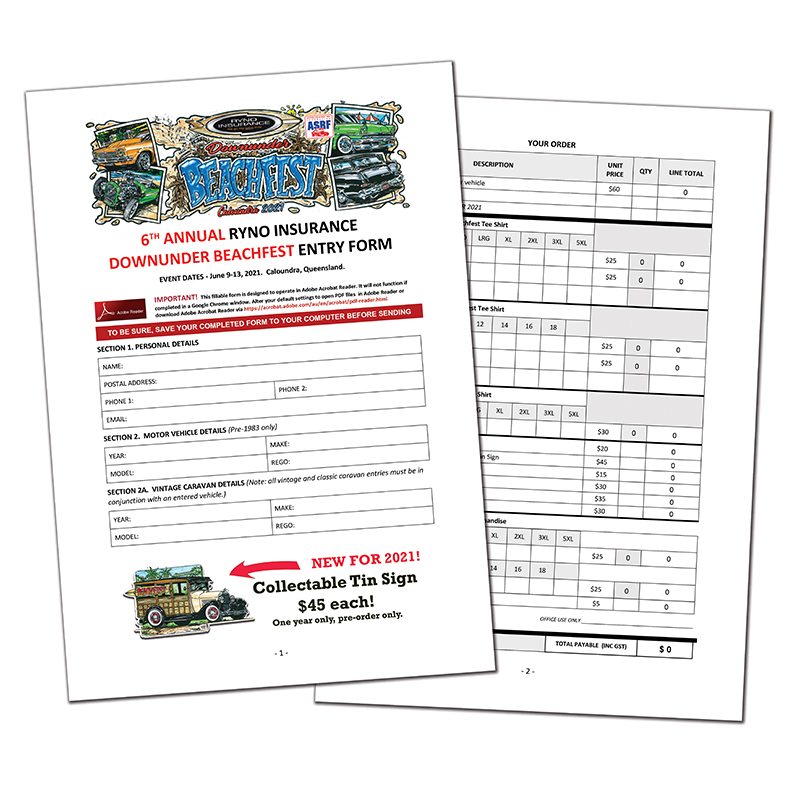 ENTER HERE!
Further enquiries regarding entering may be directed to Kayleen on 0434 875 031 or beachfestdownunder@gmail.com.
ENTRIES CLOSE MONDAY, MAY 24, 2021!